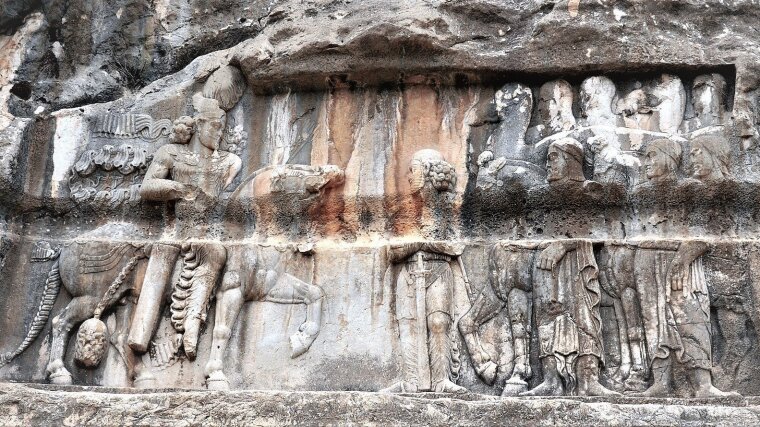 Ausdrucksformen des Imperiums. Indirekte Herrschaft im Sāsānianischen Commonwealth
International conference from 07.-09. September 2023
Felsrelief von Bishapur mit der Abbildung Vahrams II. der eine Gesandtschaft der Araber empfängt.
07.–09.09.2023
Im Rahmen des von der DFG geförderten Forschungsvorhabens: 'Vasallenherrschaft im Sāsānidischen Commonwealth' findet in Jena vom 07.-09. September 2023 ein Workshop der Projektarbeitsgruppe statt. Bei dieser Gelegenheit kommen die aktuell führenden Forscherinnen und Forscher auf dem Feld der Geschichte des Sāsānidenreichs, Vertreter der lokalen Forschung sowie aufstrebende Nachwuchswissenschaftlerinnen und Nachwuchswissenschaftler in Jena zusammen.
Die Veranstaltung bietet die Möglichkeit des persönlichen Kennenlernens und soll dem Austausch der aktuellen wissenschaftlichen Ergebnisse und Entwicklungen dienen. Darüber hinaus soll die Konferenz die Entstehung eines Netzwerkes ermöglichen, dass die wissenschaftliche Gemeinschaft in den kommenden Jahren enger zusammenführt und Jena als Zentrum der Erforschung des antiken Orients weiter stärkt.
Das Thema der Tagung ist hierfür mit den Begriffen der 'indirekten Herrschaft' und des 'Commonwealth' bewusst weit gefasst. Dies ermöglicht ein breites Spektrum an Beiträgen, die ein umfassenderes Bild der Herrschaftsmethoden der sāsānidischen Könige der Könige zeichnen.
Inhaltlich reichen die Vorträge multidisziplinär chronologisch von der Spätzeit der arsakidischen Herrschaft bis in die frühislamische Epoche und thematisch von sprachwissenschaftlichen Aspekten über religionswissenschaftliche Fragestellungen bis hin zur Präsentation von Ergebnissen zur aktuellen archäologischen Forschung.
---
As part of the research project funded by the German Research Foundation: 'Vassal Rule in the Sāsānid Commonwealth', a workshop of the 'Project Working Group' will take place in Jena from 07-09 September 2023. On this occasion, the current leading researchers in the field of the history of the Sāsānid Empire, representatives of local research and aspiring young scholars will come together in Jena.
The event offers the opportunity to get to know each other personally and is intended to serve the exchange of current scientific results. In addition, it is intended to facilitate the creation of a network that will bring the scientific community closer together in the coming years and further strengthen Jena as a centre for research into the ancient Orient.
To this end, the theme of the conference is deliberately broad with the concepts of indirect rule and commonwealth. This allows for a broad spectrum of contributions that paint a more comprehensive picture of the methods of rule used by the Sasanian kings of kings.
In terms of content, the papers range multidisciplinarily chronologically from the late period of Arsacid rule to the early Islamic period and thematically from linguistic aspects to religious studies issues and the presentation of results on current archaeological research.
Programme
 Programme (German)
Lehrstuhl Alte Geschichte
Room 302
Fürstengraben 25
07743 Jena