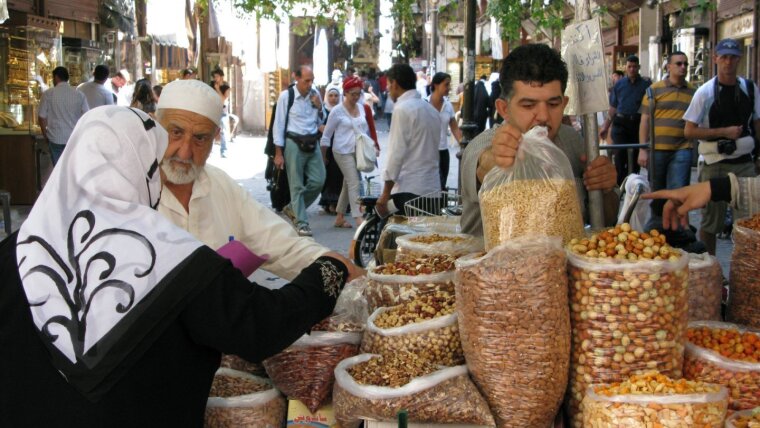 Department of Oriental Studies
Language - Religion - Culture - History
Markt in Damaskus, Syrien
interdisciplinary

In addition to the study of Arabic, we offer interdisciplinary curriculum that provides insights into the fields of linguistics, literary studies, religious studies, and history.
Students of Arabic Studies benefit from the department's numerous collaborations with other departments, such as the Faculty of Economics and Business Administration and the Center for culturally and religiously sensitive education.
practice oriented

In addition to Classical Arabic and Modern Standard Arabic (MSA), students have the opportunity to learn the Syrian dialect, which enables them to communicate through Arabic in their daily lives.
As part of the B.A. Arabic Studies, students are required to complete an internship that gives them insight into the various professional applications of their studies. The following internship reports offer an impression of the students' experiences:
international

The easiest way to learn Arabic is by spending time abroad. Therefore, we support students in planning and organizing a stay in the region through our various local contacts. For questions regarding financing, students can get help from the university's International Office.
multifaceted

In addition to Modern Standard Arabic (MSA) and an Arabic dialect, students of Arabic Studies may learn up to 7 other languages during the course of their studies. The Department of Oriental Studies offers students of all disciplines a unique selection of languages, including Turkish, Persian, Syriac Aramaic, Old South Arabian, and Old Ethiopian.
informed by cutting edge research

The Department of Oriental Studies is home to two important collections: The Oriental Coin Cabinet and the Alphons Stübel Collection of Early Oriental Photographs.
In various research projects we study the languages and cultures of ancient South Arabia and Ethiopia.
Seminar für Orientalistik
Room 204
Zwätzengasse 4
07743 Jena